Excellent summary via nickdouglas:
BUSY? SKIP TO THE EXECUTIVE SUMMARY AT THE END.
1. When the polls close: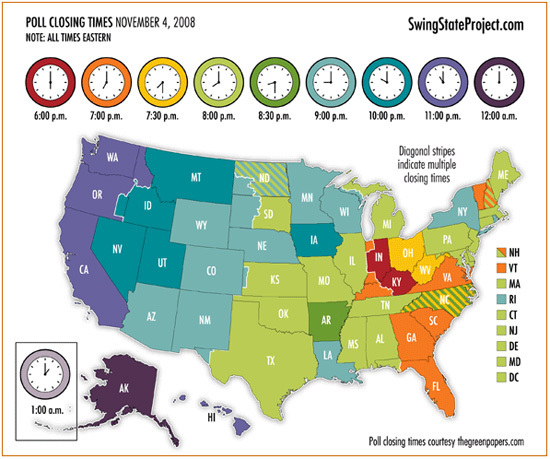 (map from Huffington Post)
2. What states matter:
According to the prediction models at Fivethirtyeight.com, McCain absolutely can't win without Florida, Georgia, Missouri, Indiana and Montana. He has less chance of winning without taking both Ohio and North Carolina than you do of wearing a condom and getting HIV.
3. What states matter in what order:
I distilled this from 538's Nate Silver:
At 6 PM EST, most of Indiana's polls close. An early call for McCain means hold onto your butts (because it indicates unpredicted McCain support); an early call for Obama means pop the champagne (for the inverse reason).
At 7, the rest of Indiana closes and a McCain win isn't as meaningful. But at the same time Virginia, Georgia, and most of Florida close. If Virginia goes Obama, again, champagne. Same for Florida. If Obama wins his long-shot Georgia because of the record number of black early voters, then call a Republican and do your best Nelson "Ha ha!" because this whole map's going blue.
At 7:30, Ohio and North Carolina close. Bad voter turnout here actually helps Obama, thanks to his huge lead in early votes. Either way, by now McCain probably has to win both or…finally…champagne.
At 8, Pennsylvania wraps up. But the projections may be off depending on which votes are counted first. Again, if you're still holding onto your butts, keep a grip.
At 9, if Obama is still struggling, he'd better win Colorado. But not much chance it'll come down to this.
EXECUTIVE SUMMARY
AT THIS TIME, IF OBAMA HASN'T SWEPT:
6 PM: McCain needs to not already lose Indiana.
7 PM: McCain needs Florida and Virginia.
7:30: McCain needs Ohio and North Carolina.
8: McCain probably needs Pennsylvania.
9: McCain needs Colorado.